Schema.org Mark-up to Increase Click-Throughs, Trust, and Conversions
Microformats, also called microdata, are HTML mark-up that follows content classifications at Schema.org in order to produce "rich snippets" of additional information in search engine listings.
These enriched listings attract the eye, producing many more click-throughs to your website than standard listings. Microformats also help to publish and enrich the Google "One Box" that appears in the upper right of search results when one searches for company names. This One Box in turn adds trust and thus increases your conversion rates.
For two to three years now, microformats have been a main pillar of successful SEO. In SEO (but not in PPC) DISC usually waits for new marketing channels to become fully established before getting our clients into them. The wait is over, and we urge you to put this high on your todo list.
Contact DISC to sign up now –>
More Detail about Schema.org Microformats
The terminology out there is confusing. Microformats, microdata, RDFa, schema.org, json-ld, rich snippets, structured data, structured mark-up, and more are bandied about like pig latin among excited tween-teens. Plenty of articles out there explain it, and below I encapsulate it for marketing managers:
Rich snippets in search engine listings are a result of using microformats (also know as microdata) according to classification schemes agreed to among the top search engines and published at Schema.org.
An even simpler definition comes from a Toby Inkster: "You know all that stuff you already have on your website? Microformats tell computers [and search engines] what that stuff is."
Schema.org microdata in websites produces richer listings in search engine results, hence "rich snippets." Below is an example from a Google search for "events in Springfield" searched from within Massachusetts. Notice how almost everything is not a simple list of blue links and a description snippet. Instead, microdata from websites contribute to "rich" and "structured" data displayed in a horizontally scrollable series up top, in the "One Box" of data about Springfield in the upper right, in two listings with upcoming events, and in one listing with reviews. The few old-fashioned listings draw your eye and your clicks least of them all.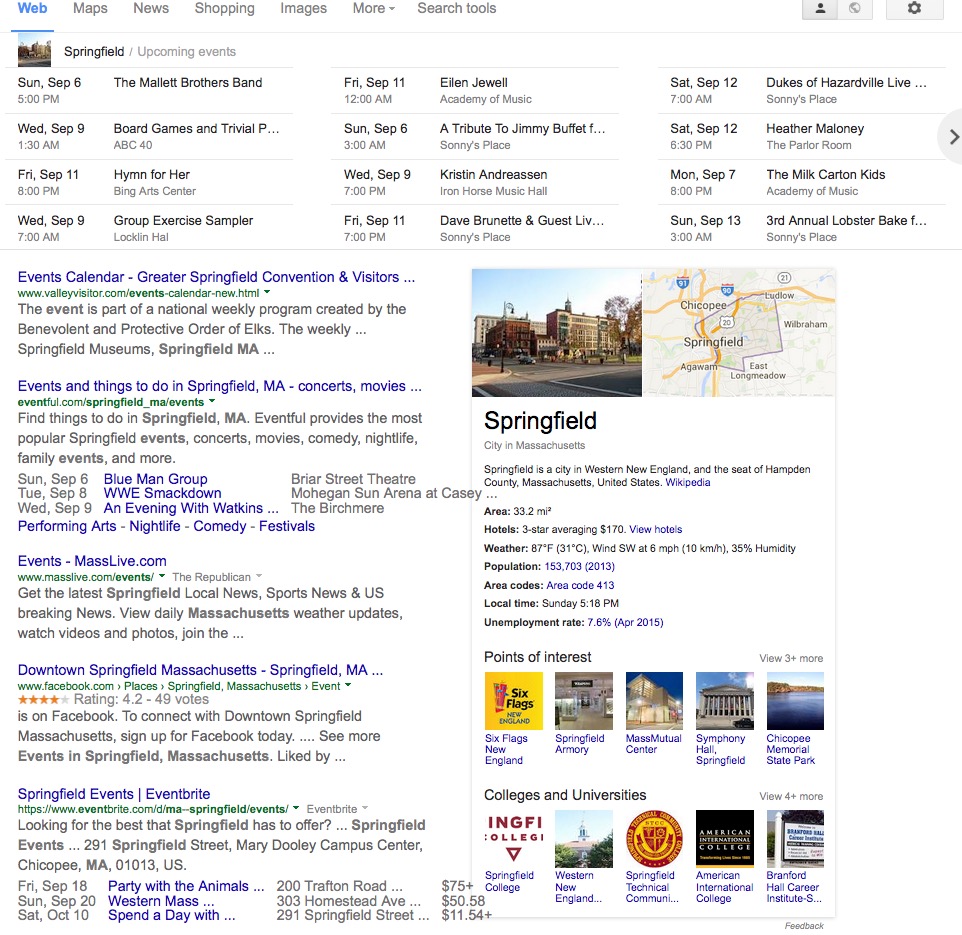 Such results can appear for all kinds of data, and over time more such rich information for a greater variety of searches will be displayed in search engine results.
To learn more, see https://developers.google.com/structured-data/schema-org and Schema.org. A good tool for making schema.org tags is http://schema-creator.org. This tool links to contextually relevant help at Schema.org and Google.