We Specialize in Trust
Because when it comes to web marketing,
you don't have time or money to waste.
DISC Inc. is an elite team of web marketers covering all areas of search marketing and conversion rate optimization. We listen to your goals, advise you on how to achieve them, and implement best practices for continuing growth. We offer predictions of your ROI before a full engagement. If you're looking for a stable and seasoned firm you can trust, look no further.
---

More clients →
---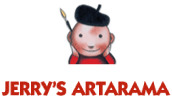 "Before DISC, we tried a couple of SEM firms, and were unsatisfied. Since late 2003, DISC has been managing our SEM, including SEO, PPC, trusted feeds, shopping comparison sites, local search, and usability enhancements. They have consistently earned us enormous return on investment. Their disciplined research and diverse SEM expertise enables us to outsource to one firm all of our SEM needs. We highly recommend DISC."
~Ira Goldstein, President, 2009
Jerry's Artarama
www.JerrysArtarama.com
---
Specializing in search marketing since 1997,
DISC offers you the peace of mind that comes from choosing a professional firm
with a long history of documented results in all facets of search marketing.
1
Experience, Knowledge, and Longevity
We help you take the guesswork out of where to invest your web marketing dollars. We've been in the trenches long enough to prioritize battle-tested tactics.
4
Best Practices
You wouldn't take risks with your search reputation, and neither will we. We won't fool you with glamorous, short-term results that risk sudden failure. We'll win you over with best practices and enduring results.
2
Integrity
We rarely make mistakes, but if we do, we admit it–even if you haven't discovered it–and we compensate you.
5
Simplified, Not Simplistic
There is nothing simple about search & web marketing, but we've mastered the complexity to bring you great results that are simple to see.
3
Personalized
We give you what you most need and none of what you don't.
6
Fair Pricing
Expensive isn't always better, but cheap often hurts. You always get expert-level services at fair prices.