Where a marketing manager's time is best spent growing a company's online presence varies considerably, depending on a number of factors. Regardless, one area that they cannot ignore is search: Google, Bing, and the lesser known search engines. This article explains the importance and development of an efficient reputation management SEO strategy for marketing managers, business owners, and CMOs.
Why you need a reputation management SEO Strategy
Prospects often Google your business before becoming your customer. Proactive reputation management SEO prevents huge potential losses from negative results about your business in Google that drive prospects (& potential employees) to your competitors.
The coronavirus pandemic has further pushed businesses online, increasing competition and the potential for negative SEO (unethical technical practices).
From fake reviews to unethical competitor tactics, the search engine results pages are minefields marketing teams must navigate. Here are some real life examples of what can go wrong. (Identifying information is blurred out for client confidentiality.)
Example #1: A Featured Snippet Nightmare
Company A hired us to manage the online reputation of their president, who had a negative press article published a few years back. We had been successful in getting a positive image/paragraph featured snippet for his name, when Google suddenly switched to show the accusations for the featured snippet! Pictured below is a screenshot of the featured snippet on desktop that took up the right side of Google results.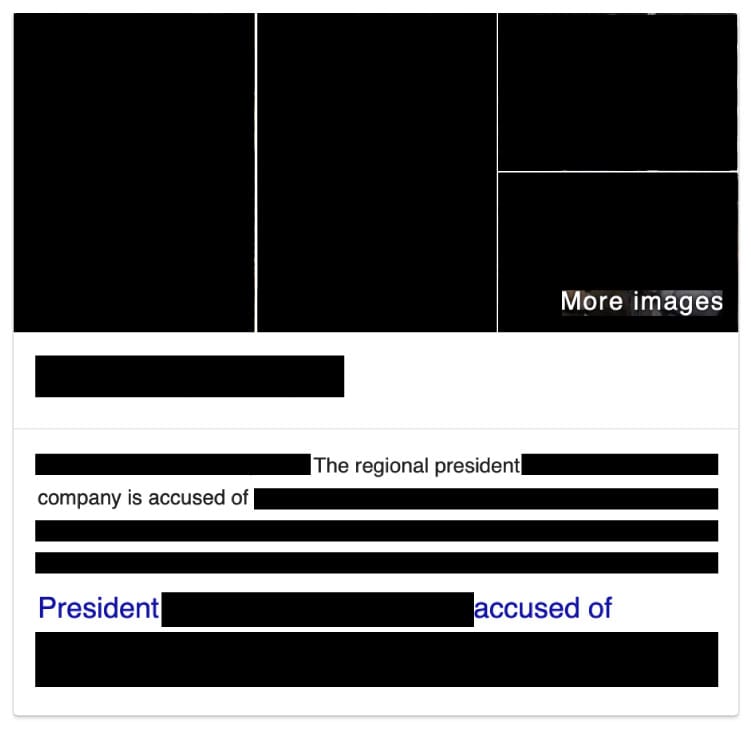 The Solution: We identified patterns in featured snippets displayed for this person's name, then published content to "bait" Google to switch from the negative press to one of our sites. We were able to get the featured snippet switched back to our site this way, but it still took five weeks. The long term strategy is for Google to display a knowledge panel for our client, and monitor featured snippet results weekly!
Example #2: Your Own Social Property Used Against You
Company B is the leader in a niche construction industry. They have a verified Yelp profile despite no reviews and little engagement on that platform. For those reasons it would be easy to dismiss Yelp as a social property to spend time on. However, when we Googled "Company B" we found Yelp ranking in the top 5 with the title "Company B – Closed For Business – Company B Address".

The Solution: Just as easily as the anonymous misdoer set our client's business closed, we marked it open. Yelp updated the HTML (blue) title within a couple weeks. With Yelp ranking so high for this business name, we encouraged the business owner to log in and check for anonymous edits like this at least a few times a year.
We had just onboarded this client, so were unable to ascertain exactly how much business was lost because of this confusing signal. Going forward, we monitor the search engine results pages (SERPs) more frequently than we would, if this client hadn't experienced this unethical competitor tactic. This situation is a good example of a serious issue that can be dealt with quickly in the recurring monitoring that fits into a well-planned reputation management SEO strategy.
How to Develop a Reputation Management SEO Strategy
Write down your ORM (online reputation management) needs with regards to frequency, queries, and search engines to monitor.

Frequency. Many businesses would do fine with a monthly task list. Businesses who have already been victim of negative SEO or reputation attacks would need a higher frequency such as bimonthly or weekly.
Queries. Company name, aliases, founder, CEO, and other notable team members may all be keywords worth tracking. Pay special attention for any queries that produce Google knowledge panels (see Obama's for an example) as these can be claimed and optimized. Google tends to build knowledge panels for book authors, so check for any in your company.
Search Engines. Budget and web traffic acquisition data via the likes of Google Analytics should make figuring out which ones matter easy. Google is likely the most important search engine for your website followed by Bing and others. Medium sized businesses can typically get away with monitoring just Google and Bing.

Build Your Toolset. Find tools that fit the needs you determine in step #1. Keep in mind that the greater the need the more you may need to invest in solutions. These free yet fundamental Google tools are a good place to start.

Google Alerts – Set automatic emails for news in Google that include your chosen keywords.
Google Search Console – See search data directly from Google. In the performance section, filter by queries containing your keywords to see the data of what people search in relation to your keywords. What to do here could be an article of its own.

Beware: GSC data is sometimes lost by Google. They will tell you… Usually.

Google Search – Manually monitor results for your keywords.

Beware: Google personalizes search results. If you search your company name then click all of the results besides your site, Google may rank your site lower next time. A virtual private network (VPN) and private browsing window will get you more neutral results.

Set clear procedures after publishing new content.

For example, after updating the company blog with a new article:

Request indexing for the webpage url in Google Search Console (This quickens the process).
Send an email to your subscribers.
Post a linked summary to Linkedin.
Over the next few days, the author of the article reviews and replies to comments.

Marketing managers can oversee or delegate this process, but it must integrate with the recurring monitoring using tools like those discussed above.

Deploy and continuously refine your strategy. As technology and conditions change your strategy must adapt. Committing to weekly or monthly checkups allows you to respond quickly to opportunities and risks.
Applying the PESO Media Model
When discussing reputation management and digital marketing it is helpful to break down media types with the PESO model. Here are the four types in PESO: Paid, Earned, Shared, & Owned with examples of how they fit into an online reputation management SEO strategy.
Paid Media
Google ads, social media ads, or any other paid digital marketing channel. Search engine ads can be used to immediately push down all first page results for a keyword, useful in cases when many people are searching for "Your Company + Negative Term" due to bad press.
Earned Media
External press coverage, blog mentions, natural backlinks. Noteworthy real world actions such as organizing events encourage earned media.
Shared Media
Social Media. Regardless of social media's role in your digital marketing, it can impact reputation management SEO significantly. In example #1 above, we saw Bing produce their version of a Google knowledge panel for our client after optimizing their LinkedIn profile.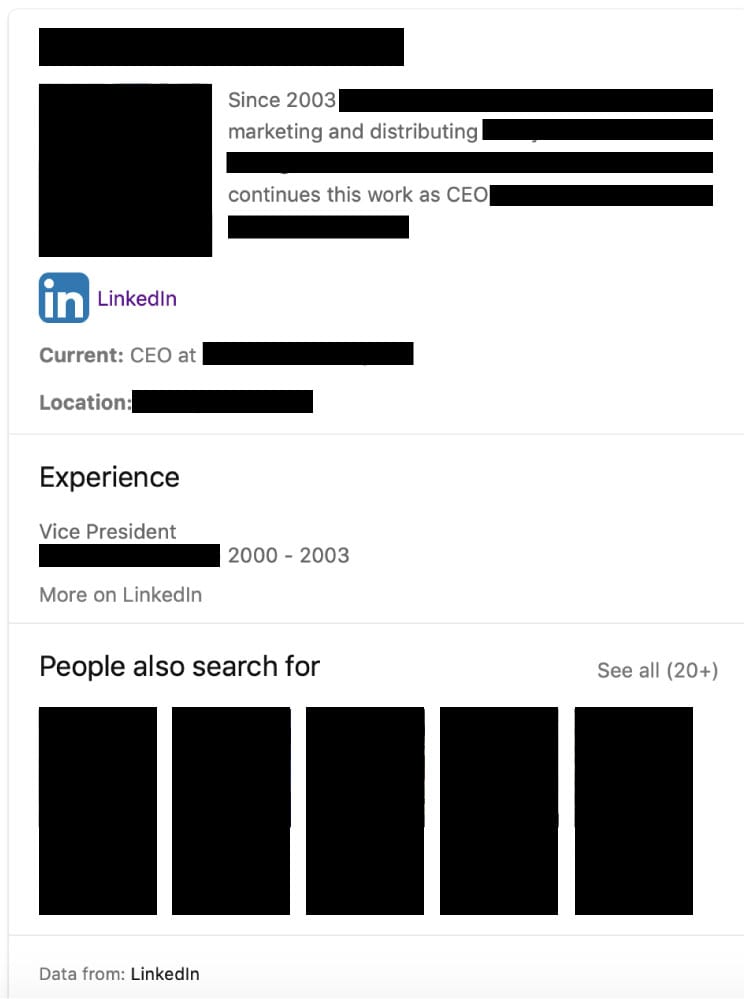 Owned Media
Your website(s). Websites you own are often central to reputation management SEO. A high-profile ORM case may include creating a personal blog for a client. Websites are helpful for publishing positive content about your company and connecting your social profiles for search engine features like Google's knowledge panel.
In summary, you must monitor and coordinate your efforts within the media mix of social media campaigns, blog posts, and news articles that mention your business. Be willing to test new ideas and learn from how your prospects react to your content. Engaging them is part of Online Reputation Management (ORM) and SEO.
When do you need to hire an ORM/SEO professional?
Equipped with a strategy outlined above any marketing manager can stay on top of reputation management SEO most of the time. However, certain situations can arise that call for specialists. Here are some typical reasons:
An authoritative or news site publishes negative content about your company.
You receive a manual penalty in Google Search Console for reasons related to foul play such as unnatural links to your site that you didn't build.
Google Search Console or an equivalent backlink tool shows a surge or steady increase of negative SEO backlinks to your website. Note that random spammy links from image collecting sites, or sites like theglobe.net, should be ignored by Google anyways. Negative SEO links can come from sites that look spammy but are specifically designed to encourage an unnatural link penalty from Google. This is, admittedly, a nuanced topic. Don't hesitate contact us for a free consultation while we offer it during the pandemic.
Reputation management SEO is a branch of digital marketing growing in importance for agencies and companies alike. Recently, we have noticed an increase in online reputation management issues for clients who didn't hire us for ORM, but whose profit is affected by it. Marketers must embrace reputation management SEO to succeed online. Contact us today for assistance in developing and implementing your strategy.