Question: What do the blue highlighted listings in this image have in common?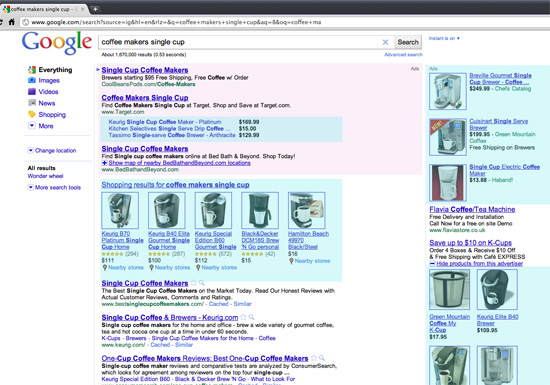 Answer: All of these listings are pulled from Google Merchant Center accounts. If you aren't actively managing a Google Merchant Center account, your products don't have a chance of appearing in any of these areas.
For years, Google has provided advertisers with a free way to list their products in the "Product Search" section of their website by joining the Merchant Center program and uploading a product feed. These listings have been slowly creeping into Google's normal search results, but the past year some radical changes have been occurring, and product listings from the Merchant Center are suddenly being thrust into the limelight. Merchant Center listings are so strongly integrated into Google's normal search results now, that in some cases they can take up more than half of the viewable area, as the screenshot above shows.
Thankfully, joining and listing products in the Merchant Center is still free. However, to take advantage of most of that highlighted area you need an Adwords account. For now we'll focus on the free area, and leave the paid stuff for Part 2.
The non-paid Merchant Center listings appear in between the paid listings and organic listings (in the above screenshot, it is the 5-product block under "Shopping Results for coffee maker single cup"). Anyone with an active Google Merchant Center account is eligible to appear in this block. As with normal organic listings, getting to these top spots takes some careful optimization, but if you can get to the top, it can provide an enormous boost in traffic with no click costs. Furthermore, conversion rates for product ads are generally much higher than any other type of listing due to their high degree of specificity and relevance to the user's search.  Either way, your listings are guaranteed to appear in Google's Product Search section, which is a great source of high converting traffic in its own right.
Joining the Google Merchant Center always provides a boost in relevant traffic, often an instant, very significant boost, and there are no click charges.  If you have an e-commerce website, you should consider this a very high priority.  Getting a feed set up is quick and easy and can often be done manually if you have a small inventory.  Feeds do need to be updated regularly to reflect what is actually being sold on the site, so you'll probably want to have an experienced firm help you out here.  Unless your database is a complete mess, it usually does not take long to set up a script that will automatically create your feed and upload it to Google.  A cron job can be set up on the server to trigger this script at regular intervals, so your feeds will be created and uploaded automatically for you.   Since all clicks are free, it usually does not take long at all the recoup the small expenses involved in getting your scripts set up.  Then you can just sit back and watch the high converting traffic roll in at no cost to you.
Next week, in Part 2, we'll dig into how your Merchant Center account can be tied into your Adwords account for total search result domination!