Last week, in Dominate search results using Google Merchant Center Part 1, we looked at a sample search results page in Google, and pointed out that over half the viewable area was dominated by listings that came directly from the Google Merchant Center.  We illustrated to e-commerce site owners the importance of getting a feed set up for a quick, regular new stream of high converting visitors.  We pointed out that these "free" Google listings would immediately appear in the Google "Product Search" results, and possibly in the normal Google search results as "Shopping Results" directly above the organic listings.
This week, in Part 2, we'll cover how to get your product listings into the rest of these highlighted areas: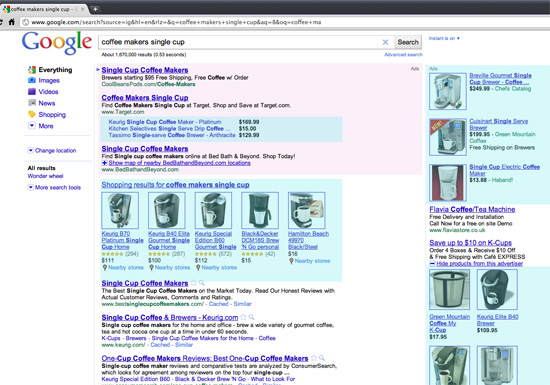 Directly above the organic listings are the "Shopping Results", which anyone running a feed in the Google Merchant Center is eligible for, and for which there is no cost-per-click. To be eligible to run your listings in those other three areas, you need an Adwords account. The highlighted area in the top right of the image above contains "Product Listings", while the remaining areas are two different forms of "Product Extensions". Here is how Google describes the difference:
"Product Ads allow you to show the pictures, prices, and descriptions of the products you sell next to related searches on Google.com. Product Ads have 2 available formats – Extensions, which allow you to enhance your keyword-targeted text ads with product information, and Listings, a standalone format that requires no keywords or ad text."
If you already have an Adwords account, all you need to do to utilize the Product Extensions is link to your Merchant Account from within your Adwords dashboard. Then, your ads will be automatically appended with specific product information when relevant. Doing so is at least worth experimenting with immediately – most advertisers are seeing much higher click-through-rates and better conversion rates as a result, and it literally takes no more than a click of a checkbox in your Adwords dashboard.
If you don't already have an Adwords account, you can still utilize Product Listing ads without having to run a full-fledged Adwords campaign. You do need to create an Adwords account, but rather than set up keyword lists and ads, you just link your Merchant Center listings, and when people search for your products in Google they will appear in the upper right portion of the search results page.
Unlike Shopping Results, Product Listings and Extensions operate on a CPC basis. if you already have an Adwords account, linking your Merchant Account could very well bring your cost down by increasing your CTR. If you don't have an Adwords account, setting up a Product-Listing-only Adwords account is pretty modest investment since product-based ads are typically much cheaper and convert much higher than normal text ads. If you are looking to invest in some online marketing for your e-commerce site, this would be a great place to begin.
Clearly the importance of having a Google Merchant Center account cannot be overstated. If you are an e-commerce advertiser and are not using it yet, or have something set up that you don't really attend to or actively manage, you are missing out on a large portion of high-converting traffic.